When it comes to choosing the education board for their child, parents are often confused and they want to opt the best. There are namely four common boards like the CBSE (Central Board of Secondary Education), ICSE (Indian Certificate for Secondary Education), IB (International Baccalaureate) and the SSC (State Boards).

In India Schools offer both Indian and International Syllabi namely:

1. CBSE
2. CISCE (ICSE)
3. IB
4. IGCSE
5. State Board

Here you can find all the necessary knowledge about Indian Education Boards to choose the best board for your child in the world of schooling.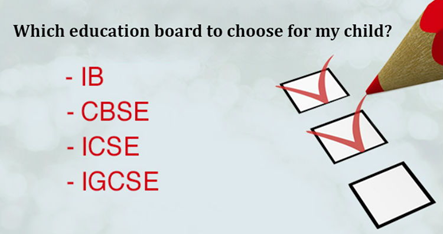 CENTRAL BOARD OF SECONDARY EDUCATION (CBSE)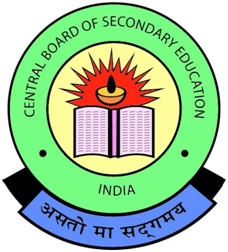 A Board which is adapted by the no. Of schools across India follows universal pattern initiated by the NCERT (National Council of Educational Research and Training).The syllabus is set by the NCERT to conduct India's two nation-wide board examinations:
The All India Secondary School Examination for Class 10
The All India Senior School Certificate Examination for Class 12.

Features:
1. The syllabus is very structured and is accepted across the globe.
2. All national entrance examinations for the admission in various courses are conducted as per this syllabus.
3. Improving the pattern for examination to facilitate the students by making board examination at the end of Grade -10 optional while it is mandatory for Grade-12.
4. it's the board adopted nationwide, moving to different countries even won't create problems of adopting new patterns.
5. It helps in preparing for career entrance exams after 12-grade like IIT, CAT, IIM and much more along with Armed force exams like NDA, IAS, IFS, IPS and much more leading to numerous career opportunity.
COUNCIL OF INDIAN SCHOOL CERTIFICATE EXAMINATIONS (CICSE)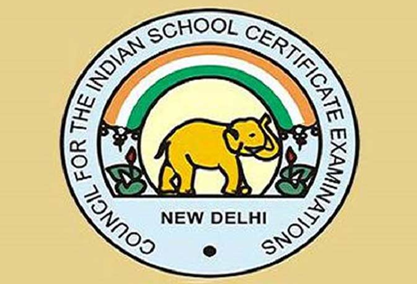 The ICSE is the short form of Indian Certificate for Secondary Education. It is now governed by the 'Council for the Indian School Certificate Examinations' which was earlier, an offshoot of the Cambridge IGCSE that existed during the British regime and now taken over by the Anglo Indian Board adopting a lot of structures from the NCERT.

The council conducts an all India exam of two types:

-Class 10 called ICSE (Indian Certificate for Secondary Education)
-Class 12 called the Indian School Certificate (ISC)
Features:
1.It follows the syllabus pattern in such a way it strengthens the basics of everything to the student boosting confidence when it comes to the higher studies making student's basics of the topic strong.
2.There is more focus on language and literature is provided for the students who aspire to be a writer or think to pursue their career in reading, debating, surveying, arguing, historians and etc.
3.It is good in terms of general knowledge and general subjects but little unnecessary vast.
4.It helps in preparing for career entrance exams after 12-grade like IIT, CAT, IIM and much more along with Armed force exams like NDA, IAS, IFS, IPS and much more leading to numerous career opportunity especially beneficial for students who are thinking to go abroad for higher studies.
5. Another importance of this board is it matches with the level of the curriculum of international board helping migrants to settle with the pattern.
6. This board focuses more on the projects which improve the logical and thinking ability of the student.


3.INTERNATIONAL BACCALAUREATE (IB), FORMERLY THE INTERNATIONAL BACCALAUREATE ORGANIZATION (IBO)

IB or IBO is a board which conducts exam only for diploma and is excellent for students who migrates across the globe now and then as they can get admission in any IB school across the globe.IB is an international educational foundation headquartered in Geneva, Switzerland and founded in 1968.The methodologies so adopted are interactive and way more equipped learning is provided as only a few students are there in each batch ensuring quality learning to each one individually. These are the, however, most expensive schools across the world.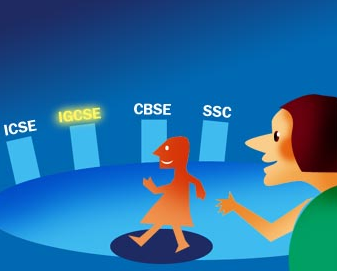 4. INTERNATIONAL GENERAL CERTIFICATE OF SECONDARY EDUCATION (IGCSE)
It is an English language specialized curriculum made for international use which is academically rigorous and generally opts for the students who wants to prepare themselves for International Baccalaureate and CIE A-level.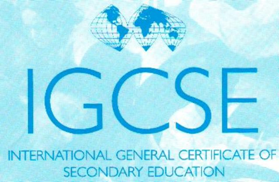 5.STATE BOARD
The board opted by mostly states like Maharashtra, Madhya Pradesh, Gujarat, Andhra Pradesh and Goa in India, Bangladesh, and Pakistan is STATE BOARD
Secondary School Certificate, commonly known as SSC which is followed by Higher Secondary (School) Certificate (HSC).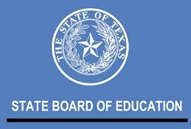 Features:
1.In comparison with other systems, it has limited syllabus and subjects leading to less stressful board system for students.
2. Parents who have the lifelong plan of staying at the same place can take advantage of state boards.
3. However, Students planning for future competitive exams like IIT, CAT and much more needs external coaching.
4. Kids interested in extracurricular activities like sports, painting and much more can opt for it.