Overview:
The CISCE or Council for the Indian School Certificate Examinations is one of the most centralized boards of secondary and higher secondary education. It conducts the Indian Certificate of Secondary Education (ICSE) Exam for class X, the Indian School Certificate (ISC) Exam for class XII and the Certificate for Vocational Education (CVE) Exam for class XII.
ISC Exams for Class 12th started on 7th February, 2018 and are going to conclude on 2nd April, 2018. The results for ISC Exams will be announced on the Official Website of CISCE. The result will be out for all the streams (Science, Commerce & Arts) on same day, on the official website.
Expected Arrival of ICSE Class 12 Results 2018:
The results of the academic year 2017-18 are expected to be declared by 25th May 2018. Until then, students can relax or can utilize their time to improve their personal skills and develop themselves.
How to Check the ISCE Class 12 Result:
The students can check the result in two ways:
Online:
Head on to the official website of ICSE http://www.cisce.org/
Click on the Results Tab and select ISC
Enter your Unique Id (UID) and enter the Captcha
Click Submit
If you entered the details correctly, your result will be displayed
Check it and take print-outs for future reference
SMS:
To receive the result via SMS just type , ISC [space] UID and send the message to 09248082883
Revaluation/Re-Checking of CISCE Board
The students of ISC Class 12th can apply for revaluation only after the declaration of the results. The revaluation results for ISC Class 12th will be announced within 10 to 20 days.
Previous Year Result:
The result for Class 12 of the ISC Board for the academic year 2016-17 was announced on 29th May 2017 which emerged Ananya Maity as the topper with 99.5%. The overall pass percentage saw a marginal increase of about 0.01% as compared to the previous year.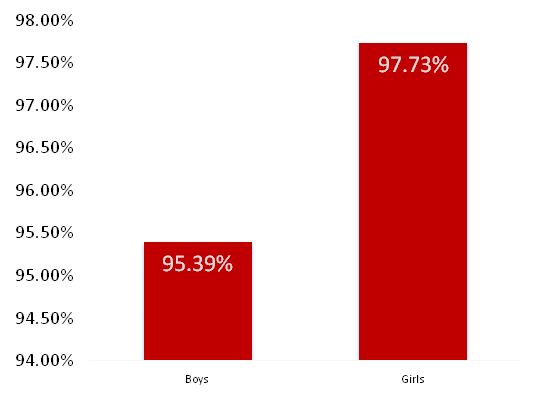 Just like many other cases, here too, girls have been outperforming boys in terms of overall pass percentage.
Grading System of ISC Class 12:
The grading system helps to place students with the slight difference in marks into the same category. It also helps remove minor mistakes which happen during the process of paper checking and marks evaluation.
The system followed by ICSE is as follows: